Key takeaways from Anime Recommendation – Sabikui Bisco:

Sabikui Bisco offers a unique and captivating plot set in a post-apocalyptic world affected by a rust apocalypse.
The anime features memorable characters, particularly the evolving relationship between Milo and Bisco, along with engaging character arcs.
The art style of Sabikui Bisco is visually striking, complementing the weird and fantastical nature of the series, making it a standout choice for fans of distinct and unconventional anime.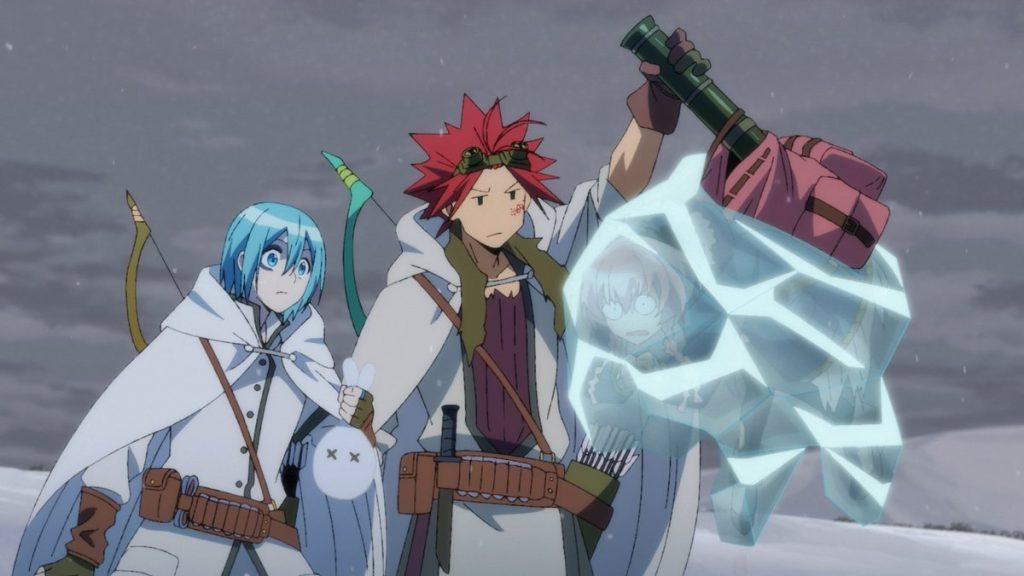 When I watched this anime for the first time, it didn't really click with me. And hence, I ended up dropping it on the 2nd episode. It was only on a consecutive rewatch that I realized just how awesome Sabikui Bisco is.
This anime is clearly inspired by Trigun but it is a more fantasy-inspired take on Trigun formula. And over time I've come to appreciate how weird and different this anime is compared to other similar anime. There are a lot of things to love here.
So welcome back to another edition of our anime recommendation series. This week we are talking about Sabikui Bisco. So let's get started.
Introduction
Sabikui Bisco is based on the LN of the same name by Akagishi K and Cobkubo Shinji. The anime is made by Studio Oz, and it came out in the Winter season of 2022. It is 12 episodes long and we don't have any sequel announcements so far. If you live in South-East Asia, you can watch this anime for free on YouTube on the Muse network.
Plot
A rust apocalypse has ruined all of Japan, leaving only endless fields of sand behind. The rust is even spreading to the people. Dr. Milo has been trying his best to find a cure for the rust disease but had been unsuccessful. His life changes when he meets Bisco, The mushroom spores from people like Bisco are apparently responsible for the rust apocalypse. While in reality, Bisco is trying to end the apocalypse. And so, Milo decides to join Bisco on his journey.
Sabikui Bisco offers a really interesting plot with a weird and amusing world. This makes this anime and every episode spent exploring the world feel very unique and different. The first few episodes could've been paced better but the pacing gets better as the season goes on. Aside from the pacing, though, the plot is really good and once you get invested, it will be very hard to stop watching.
Characters
Milo and Bisco's relationship is the main focus of this anime. They start off as strangers but Milo grows closer to Bisco as the series goes on and the two become true best friends. Milo gets some really nice character development throughout the series. His sister, Pawoo too gets her own cool character arc as she starts learning the truth about the rust apocalypse after leaving the city in pursuit of her brother. This combined with a bunch of memorable and quirky side characters makes Sabikui Bisco very entertaining.
Animations and Soundtracks
The animations are pretty average but the art style is very eye-catching. Oz Studio really managed to make great character designs and locations that stand out and stick in your brain. They incorporated the wild and weird nature of this anime very well into the art style. The soundtracks are fairly average too.
Why should you watch Sabikui Bisco?
Quick pointers on why you should check out this anime:
Great plot
Good world-building
Memorable characters
Awesome art style
Conclusion
That is all for now. Let me know what you guys think in the comments. Sabikui Bisco may not appeal to everyone but I really do like how weird and unique this series is. With that said, I will take my leave here. See ya!
Check out my favorite anime of this year so far right here! I am sure you will enjoy the article!