So I just learned about this anime going through the news. It had a new promo release, I check it out and this anime looks super fun. So here I am, giving a quick shoutout to a random anime that caught my eye. Normally, I'd make it an anime recommendation but since Mou Ippon isn't out yet, I decided to a separate article for it. And yes, the name is inspired by one of my favorite YouTubers, Skill up!
So welcome to another "news" article I guess since I'll mostly be talking about what we know about the anime. Anyway, let's talk about Mou Ippon. I'll start off with a bit of introduction to the series followed by the news and then my views on it. Feel free to skip around section if you want to. With that said, let's start right away.

Introduction
Mou Ippon will be based on the manga of the same name by Muraoka Yuu. It is a female action sports manga that started back in October 2018. The manga is ongoing and it is published in the weekly Shonen Champion magazine. What do I mean by action sport? Judo. It is a manga about female Judo without any fan service whatsoever and that is quite cool.
Saving my opinions for later though, let's move on to the news section.
What do we know about Mou Ippon's anime?
The Mou Ippon anime adaptation will be made by Bakken Record. They previously worked on Jouran which was quite different from this anime. The anime is scheduled to release in January 2023 i.e. the winter 2023 season. They recently revealed a new teaser image and promo. You can check out the promo here.
Keeping up with the studio, we have the same director as Jouran, Takeru Ogiwara. He will also act as the character designer and the chief animation director. The music of the series will be composed by Shun Narita.
Why did this anime catch my eye?
It is hard to say for sure. But I guess the art style is what caught my eye immediately. I mean, just by looking at it you wouldn't say that Mou Ippon is about Judo right? That never crosses your mind upon seeing this cute-looking art style but it is. After the art style caught my eye, I look it up and find out that it is a female action sports manga, quite unique in itself. And it has no fan service whatsoever. Now that makes this truly cool. I am personally not against fan service but sports animes get hit the hardest by it. It can really spoil the moment in sports anime.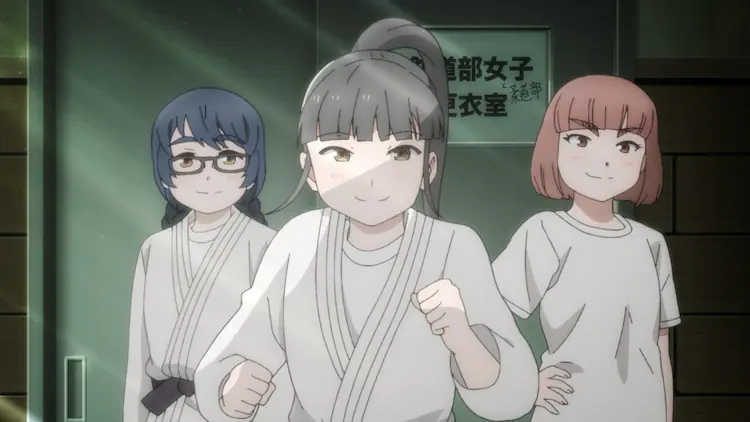 Mou Ippo completely sidesteps the issue by not including fan service at all, nice. The plot looks like a pretty standard sports anime-type plot. Nothing too special. But still, depending on how well Bakken Record animates this series, it may be very worth looking into.
Conclusion
That is all for now. The only goal of this article is to give you a heads-up about a random anime that I found interesting. So let me know what you guys think about it in the comments. Stuff like this definitely deserves a chance IMO, so I'll check it out for sure once it drops. With that said though, I will take my leave here. I have finally caught up to my schedule now. See ya!!