Oh yeah baby, let us talk about this bad boy today. Man, I had absolutely no idea that the manga was still ongoing. I rewatched the anime and was like "wait a second, doesn't Black Lagoon have a manga?". And I wasn't disappointed at all when I found out that it was still ongoing. This manga rocks man, it is an excellent example of how to make gold out of a simple premise.
So welcome back to another edition of our manga recommendation series! This week we are talking about Black Lagoon! This is one entertaining manga… and if you haven't watched its anime yet, I really recommend it too. But today we are talking about the manga so let's get to it.

Introduction
Black Lagoon is written and illustrated by Hiroe Rei. It started its serialization on 19th April 2002 in the Sunday Gene-X magazine. If I remember correctly, volume 12 and chapter 113 are the latest ones released at the time of writing. Black Lagoon also has 2 seasons and a spin-off as anime adapted by Madhouse so as I said, check it out if you're interested.
Black Lagoon has a simple premise but it is entertaining as hell. The plot can get pretty deep at times but, the main joy of the series is the character interactions. There are a lot of characters in the series and seeing them interact with some great dialogue to support it is fun.

Plot
Black Lagoon follows Okajima Rokuro a salaryman who gets kidnapped by a band of mercenaries. His company abandons him and so fed up with his life, he decides to join up with the mercenaries. The series follows the daily life of the Lagoon company and its new member. It may be a simple plot but as I said earlier, it works really well for the series. I have to say though, they nailed the gang politics and stuff really well. The tensions between the gangs and the position of the Lagoon Company among them are really well written.
Characters
Here comes the fun part. Black Lagoon has a huge variety of characters from drug dealers to ex-militants, from crazy Maids to armed and dangerous nuns. This manga truly has a lot of amazing characters. It is a joy seeing all these characters interact with a lot of good dialogue in the crazy world of this series. Almost all of the characters are so damn well written too, it is pure joy.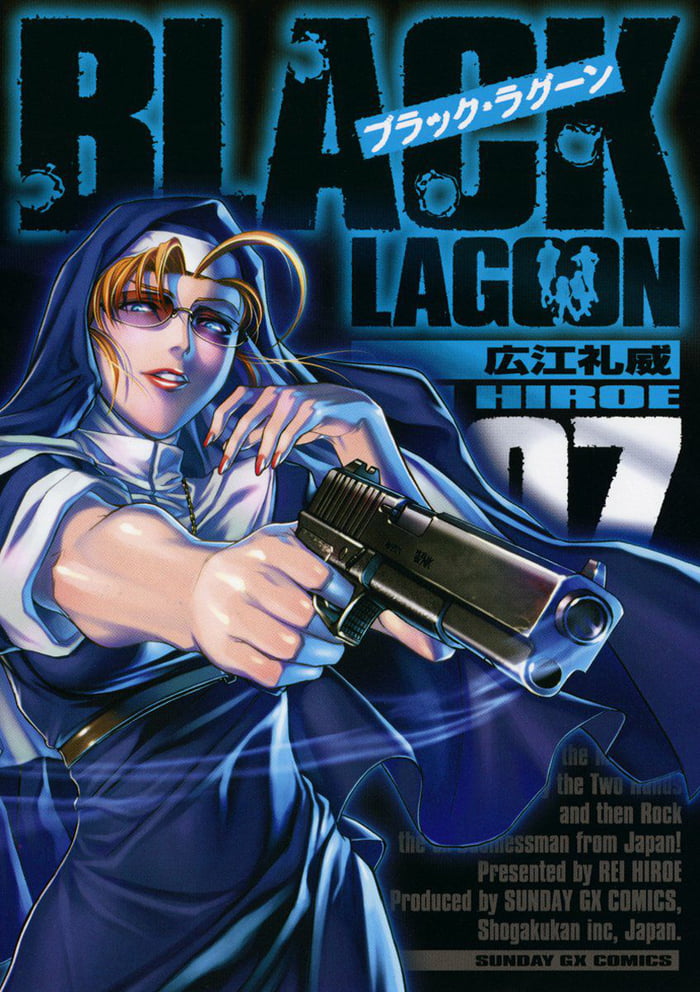 As for the main characters, Revy pretty much hard carries the Lagoon Company. She has a cult following and for a good reason. She is a total badass. Revy doesn't get much development but she is already such a great character that she doesn't need it. Rock on the other hand though gets a lot of character development. He is really torn between his old and new lives and his struggle is so well portrayed.
Art
Black Lagoon has some really awesome art. The fights look awesome, and the character designs are great. Everything good you'd want in the art of a manga like this. It looks cool and badass and the detailed art contributes to the darker tone of the manga. There are a lot of unique character designs to enjoy here though, that is for sure the strongest point of the art for sure.

Why should you read Black Lagoon?
Quick pointers on why you should check out this manga:
Good plot
Great characters
Great art
Lots of fights
Conclusion
Well, that will be all for now. I really love Black Lagoon and the manga has been really consistent since the beginning. It is a very enjoyable experience and I really recommend it. With that said though, I will take my leave here.