Anime Eyes – Make Perfect Eyes Every Time With These Tutorials
For someone who is an anime art lover must know that anime eyes define the character's feelings, expressions, and personality. As important as the eyes, many artists – especially beginners – find it difficult to sketch.
If that's the case with you, then worry no more! This blog will explain how you can draw perfect shaped eyes every time with some tutorials' help.
Drawing The Perfect Anime Eye Shape – Beginner's Guide
Eye sketching is all about getting the right eye shape. Once you have drawn the eye shape, detailing and shading is not challenging. Whether you are drawing an anime character or manga – the rules are the same for making the eyes as shown by the Whyt Manga.
The first thing that you have to decide is whether you are drawing a male or female character. If you are specific about using tools, then here is a list of tools that you might use:
Deleter Type A B4 Comic book Paper
Pens: Deleter G-pen, White pigment Signo pen, Pentel Brush Pen
Software: Manga Studio 5, Photoshop, Illustrator After Effects, Clip Studio Paint EX, InDesign, Final Cut Pro X
Pencils: SAI, Mechanical Pencils
Inks: Type 6 ink, Copic Refills, Pen Tablets
Colors/Paints: Water Color, Screentones, Spectrum Noir Art Liner, Spectrum Noir Illustrator
Markers: Copic Ciao 72 B, Sketch 72 A and Skin Tone Markers, Classique Markers, SN Premium Marker Pad
Others: Brushes, Rulers, Erasers, Gouache, Mustek A3 Pro 1200 USB Scanner
Figure out the eye shape and size and even eye-brows of the character. Then draw a roughly vertical line and a rectangle. It will also help you get the shape and outline of the face and skull. You can create any eye using the basic shapes, i-e oval, square, and triangle.
Just keep one thing in mind to make both sides of the shapes identical. Don't go for detailing unless you have finalized the eye shape and lashes. After finishing up with the eye outline, draw the eye-brows and then add details.
Drawing Anime Eyes Digitally
Digital anime art is one of the most popular things on social media. While most people think that it's difficult, the reality is quite different. Digital anime art gets very easy when you use a reference image to do so, as Ergo Josh illustrated.
It might take 3 to 4 hours depending on your skill & practice, but the result is always worth it. You can find the best reference images on Pinterest. Draw the basic face anatomy and then intersect the face shape with a vertical & horizontal line.
It will provide you with a base for drawing the character's eyes. Please don't hold back, thinking you might do it wrong. If something goes wrong, you can always erase it. Complete the outline fr the whole face, including eyes, nose, eyebrows, mouth, and ears. After completing the face structure, start detailing the eyes and eye-brows.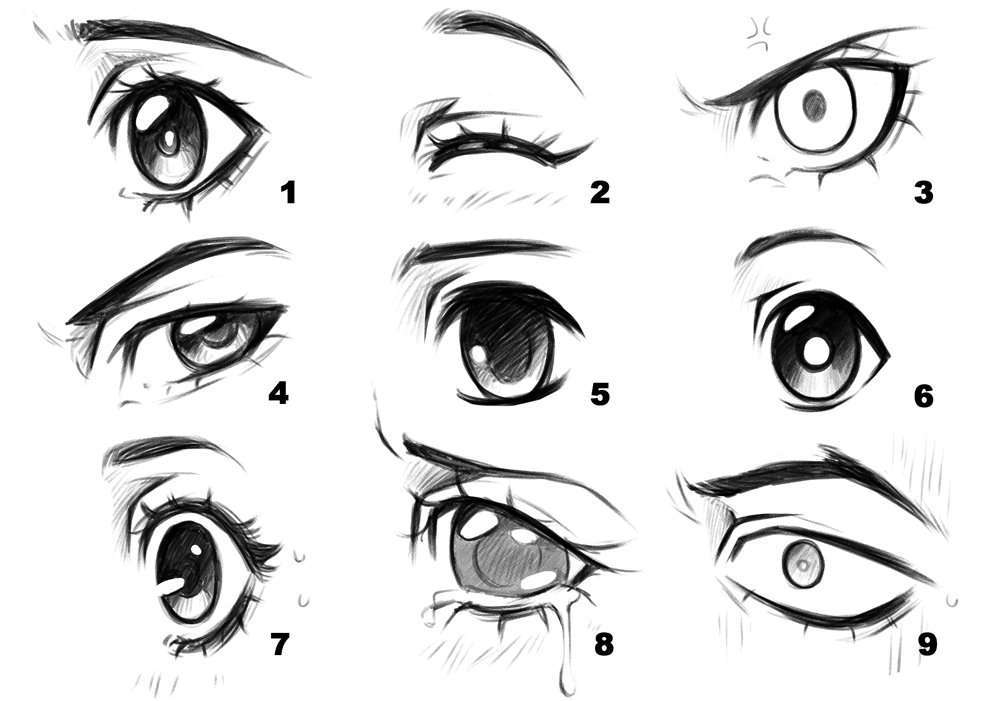 Sketch A Sexy Female Anime Eye
If you want to draw beautiful and sexy anime eyes every time, start off drawing the eye lid's outer layer – just like the Mikey Mega Mega. One common mistake that people while drawing anime eyes is they draw a perfect circle.
However, you have to draw a rough oval in reality and then adjust it to your desire eye shape. The outer layer will also give an idea of where and how you want to place the other eye parts.
After the oval, gently draw a curve as per the eye shape you want to give your character. If you are drawing a female anime/manga character, then give it a tick lash line. You can use the same technique to draw almond shape eyes as well.
While drawing the anime/manga eyes, always draw the outer eye corner upward and the inner one downward. To give more detail to the eyes, always draw a wet area near the pupil. Also, do the shading and grading at the end when you are satisfied with the eye outline.
Knowing The Do's and Don't Of Anime Eye Making
Several tutorials are available to draw the perfect anime eyes; the best one is Shinigami Arts' Don't vs Do video. A comparison video, also known as "Do and Don't," explains what people are doing wrong and the right way to do it. Such videos help you to understand what you have been doing wrong or how to avoid it.
One of the most common mistakes that many anime artists make is drawing anime eyes without proper mapping. If you want a perfect eye shape, use a base or reference line such as cross-sectional, rectangle, square, oval, or triangles. It is not only correct for the outer eye shape but also the eye pupil.
Another wrong way of drawing the eyes is to start from the shape of the eye-brows. Never do this. Always draw the eye-brows once you have finalised the eye shape.
Moreover, when it comes to adding details such as giving volume to the lashes, always do it at the end. And while you are doing all this, draw with gentle and soft strokes so it would be easy to erase.
Becoming a pro anime artist means being able to draw the perfect and identical shape and size. If you are an artist, you'd already know how hard it is to get the ideal eye shape. However, the tutorials will help you master the skills very easily.
You can also search for anime eyes drawing tutorials. There is a wide range of tutorials that come from intermediate and professional anime artists. These are helpful because the artists are explaining from their experience.
Don't be shy to start from scratch, as every professional artist has been there as well! Give these tutorials a try and draw a sketch using the instructions. Let us know whether the tutorials are beneficial.
If you have something to add, share it with us in the comment section. Because at anime, we believe in aspiring and helping others do better!