"Komi-san wa Komuyushou desu" Anime Announced
Komi-san is manga by Oda Tomohito. It is a romantic comedy anime and it is quite a bit different from the general RomCom stereotypes we see. The publisher of the manga opened up a website on Tuesday announcing the anime adaptation as well as a few details and a teaser visual. There were quite a few anime announced recently but, I am doing an article for this one because this one is easily the most awaited one among the others. This will really be something to look forward to. Moving on
What do we know about anime?
Komi-san manga is 5 years old and people have been waiting a long time for the anime adaptation. The manga is really famous in terms of both rating and sales. The news of anime adaptation has spawned quite a few memes recently on the internet you may have seen a few of those yourself. Well as for the release date, the anime is confirmed to start airing in this year's fall season. That would mean sometime in October. Along with the anime announcement, they announced the main staff and cast. The anime will be made by OLM Studio who is mainly known for Pokémon and Inazuma Eleven. As for the plot
Komi-san is the "Madonna" of her school because of her elegant appearance. Tadano Hitohito (clearly influenced by the Author's name isn't it?) is a normal guy who strives to avoid trouble at all costs. He gets into trouble though because he gets a seat beside Komi-san. Literally, everyone turns into his enemy after that. Slowly, Hitohito realizes Komi-san isn't able to communicate properly and probably has never had a friend before so he decides to help her overcome her communication issues.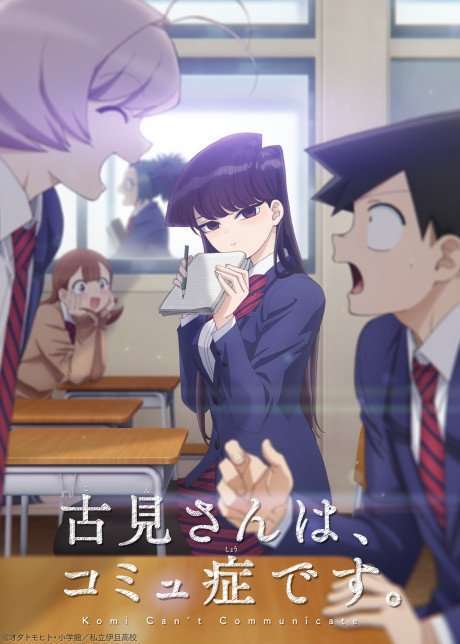 ~"Komi-san wa Komuyushou desu" Anime Announced
Expectations
Aha now here comes the important part. Now, this once it's fairly easy to say what to expect because the Manga is really good and the anime is in the hands of a good studio so it should turn out well if proper time and effort is dedicated to it. I have heard nothing but good things about Komi-san manga and the number of memes that popped up right after the announcement tells me that a lot of people are really excited to see Komi-san in animations finally. I am really excited about this as well as I have read a few chapters of the manga and now that the anime is announced I won't read any further. Most importantly, I am really excited to see Komi-san's character development.
Conclusion
Well, this is all I have for now. You can check out the teaser video here. Let me know down in the comments what you think of the teaser and if you are excited for Komi-san or not. The teaser looks really good and I hope this quality carries over to the actual anime. As usual, do not forget to check our awesome art section and stay tuned on the site for more of my articles. With that being said, I will take my leave here. See ya!!