Key takeaways from Anime Recommendation – Endo and Kobayashi:

"Endo and Kobayashi Live!" presents a unique twist on the Otome Game genre, offering an interesting plot with depth and character development.
The anime showcases an intriguing double layer of romance between the main characters, Endo and Kobayashi, as well as between Sieg and Lieselotte within the game.
Despite its average animation and soundtrack, the series features commendable voice acting and an amazing ending, making it worth watching for its plot, characters, and voice work.
I can bet most of you have not even heard about this anime. And that is really a shame because this presents an interesting twist on the good old Otome Game troupe. Endo and Kobayashi is a very unique, interesting, and fun rom-com that more people should watch.
While appearing pretty simple on the surface, there is a nice bit of depth to the plot as well. If you remember the I am The Villainess so I am Taming the Last Boss anime, this is pretty similar in terms of tone to that.
So welcome back to another edition of our anime recommendation series. And today we are talking about Endo and Kobayashi Live!
Introduction
Endo and Kobayashi Live is based on the LN of the same name by Enoshima Suzu and Eihi. It was serialized online from April to August 2019. It is very short at just 25 chapters or 2 volumes. And yes, that means the anime covers all of the LN. The anime is made by Tezuka Production and it aired in the last season. It has a total of 12 episodes.
Plot
The plot is pretty interesting. Endo and Kobayashi are fellow members of the broadcast club. Koboyahsi manages to convince Endo to play an Otome game she likes with her. He agrees but to their surprise, the Hero of the game, Sieg can hear their voices. He thinks of them as gods and just accepts whatever they say. So they decide to use Sieg to save the life of Lieselotte as she dies in all routes of the game.
Now this presents us with a double layer of romance. You one between Kobayashi and Endo and one between Sieg and Lieselotte. This is quite an interesting scenario and it leads to some interesting situations and opens up interesting ways of character development. There is a little bit of world-building in the game as well, which is the icing on the top.
Characters
Endo and Kobayashi has some great characters. As I said, the unique way of presenting the plot makes for some interesting character moments. These allow us to see more sides of different characters which in turn makes them memorable, The character development throughout the series could've been handled a bit better but overall, the characters in the series end up leaving an impression on you. And that is rather commendable.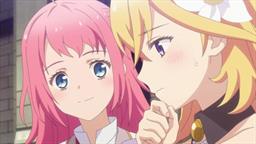 Animations and Soundtracks
It is Tezuka Productions, so you already know that the animations won't be that good. But the art style they picked works well for the series. The soundtracks are fairly average, this series could've been so much better if they put slightly more effort into the sound design smh. And lastly, a special shout out to the voice actors. Kana Hanazawa is of course legendary but all the other voice actors absolutely killed it too. Amazing voice works all over.
Why should you watch Endo and Kobayashi?
Quick pointers on why you should watch this anime:
Awesome plot
Good characters
Great voice work
Amazing ending
Conclusion
That is all for now. Let me know what you guys think in the comments. This anime deserves way more recognition than it gets. That is all for now though, I will take my leave here. See ya!
Check out Dr. Stone Season 3 Part 2 news here before leaving though!