Call of the Night or Yofukashi no Uta was one of the most anticipated animes of this season. It is something I was personally looking forward to as well because I really enjoyed the manga. Not that I read much of it because I wanted to preserve the fun of watching the anime but still. It is not only one of the best animes of the season, but it's also one of the best vampire animes I've watched.
So welcome back to another one of my reviews, today we are talking about Call of the Night or Yofukashi no Uta. This anime was really fun and I hope that we see a sequel sometime in the future. With that said though, let's get started with the review right away.

Plot
Call of the Night is pretty light on the plot side. It is about a guy, Yamori Kou who one day just stops giving a damn about everyday life. He becomes more and more bored with his life and as a result, suffers from insomnia. During one of his late-night strolls, he stumbles across Nanakusa Nazuna a vampire who helps him sleep and then tries to drink his blood. To her surprise though, Kou tells her that he wants to become a vampire too.
That is it. Call of the Night is basically about Nazuna and Kou strolling around the city, doing their things at the night. And about all people, they meet throughout the night. The plot is just there to facilitate the characters and the overall presentation of the series. I respect that.

Characters
Character interactions are the central point of Call of the Night. As I said earlier, the plot only exists to facilitate character interactions and development. Yamori is easily my favorite male protagonist from this season (the female and overall favorite being Chisato). He is a very well-written character and I have a feeling a lot of us find him very relatable. He just wants to live freely without the stress and restrictions of everyday life. And aside from that he is super based and I respect him for that. He rejected 4 vampire waifus for Nazuna, respect.
Speaking of, Nazuna is the "poster girl" of Call of the Night. So as you might aspect she is also really well written. I love the fact that she openly makes dirty jokes but gets embarrassed the moment Kou compliments her or says that he likes her. She and Kou really drive the character development of some of the side characters like Seri. Sometimes it's Kou doing the work, sometimes it's Nazuna. Their chemistry is well portrayed and it is fun to see them together.
Animations and Soundtracks
No complaints in either of these departments. The animations and the art style are a huge contributing factor to why Call of the Night is so good. The city in the night is just so beautifully portrayed in this series. The series would be very incomplete without this unique visual design. As I said yesterday with Engage Kiss, it is something you have to see for yourself to understand. And the soundtracks are super awesome as well. They are very vibe-y and do a great job of setting up the mood of the scene. And both the opening and ending themes are awesome and catchy as hell.
Conclusion
Here are my final scores for Call of the Night:
Plot – 7/10
Characters – 9/10
Animations – 10/10
Soundtracks – 10/10
Enjoyment – 9/10
Season 2, please! – 10/10
Overall – 9/10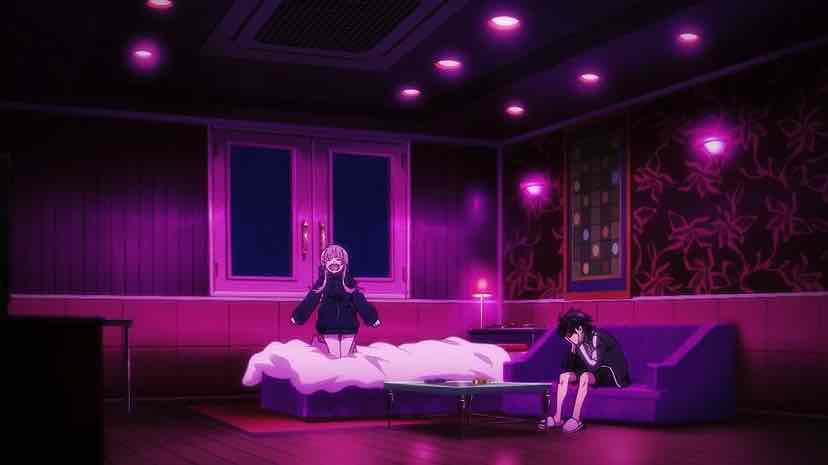 Definitely one of the best shows of the season and one that has become quite close to me over time. I am really glad I watched Call of the Night. Let me know what you guys think in the comments below though. I will take my leave here. Time to watch some Spy x Family. See ya!!