Anime Winter 2023 is an absolute beast of a season. I think only spring 2022 comes close to this season in terms of the sheer number of ongoing shows I am watching. I am watching 14 ongoing anime right now, 2 of them are from the last season (Kage no Jitsuryokusha and BNHA Season 6). The rest 12 though are indeed from this season.
So welcome back to what will be a rather long article about Anime Winter 2023. I have done my first impressions articles on almost all anime here so this is just a small update in one article on each of them. The anime I will talk about are not in any particular order either; just my two cents on them. So let's get started.
Bofuri Season 2
Ah yes, the moe tank is back with a bang. I have watched 2 episodes at the time of writing this article, I don't know if more are out yet or not. But you know, it is Bofuri. Exactly who you'd expect, cute wholesome, light-hearted fun. I will say one thing though, I think they are going too fast this season. We skipped over 3 or 4 floors in 2 episodes. Meaning we didn't get to see each floor properly. Hope we don't skip over as rapidly in the coming episodes. But yeah, definitely enjoying the season so far. 7/10
Bungou Stray Dogs Season 4
Episode 3 is out at the time of writing this. BSD Season 4 is off to such a good start already. I love the flashback arc they are starting with, this time it is about Fukuzawa and Rampo. Telling us about how the two met and how Rampo acquired his "gift". The art style looks as good as always, I love the color scheme they went for in the first episode. Easy 8/10 may even go up to a 9 by the end at this rate.
DanMachi Season 4 P2
After that shocking turn of events in Season 4 P1, I couldn't wait to see how things would conclude in P2. This season is only slated for 11 episodes but it has been doing awesome lately. The fights have been getting crazier, Bell is in dire straights. Even though there's a ray of hope, I am curious to see how he makes it out. Another easy 8/10.
Vinland Saga Season 2
One of the two big names in Anime Winter 2023. As much beef as I have with Mappa right now, they have been doing a fantastic job with Vinland Saga so far. That opening theme is so chilling for example compared to the action-oriented first opening. It symbolizes the tone shift of the story really well. And given the kind of animations I've been seeing for two episodes now, I can't wait to see certain scenes in the anime. The anime is slated for 24-25 episodes so it'll be here for a while. 9/10
Kubo-san
This anime is adorable! That is the only word I have for it and I will say it again and again. One of the three romantic anime I'm watching this season and it is awesome. Not gonna lie, this is the kind of life most of us boys wish for. Kana Hanazawa's voice makes it even better than it already is. If you liked Komi-san, this anime will be right up your alley. 7/10 for now, may go up to an 8 later on.
Maou Gakui no Futekigousha Season 2
I didn't expect this anime to get a season 2 but here we are. We are already on to some high-time conspiracy with this season, we have a whole new plot line about a "child of god". We got a bunch of new lore drops and we will likely get more as the season continues. Pretty much what I expected, i.e. Anos soloing the entire universe. 7/10
NieR: Automata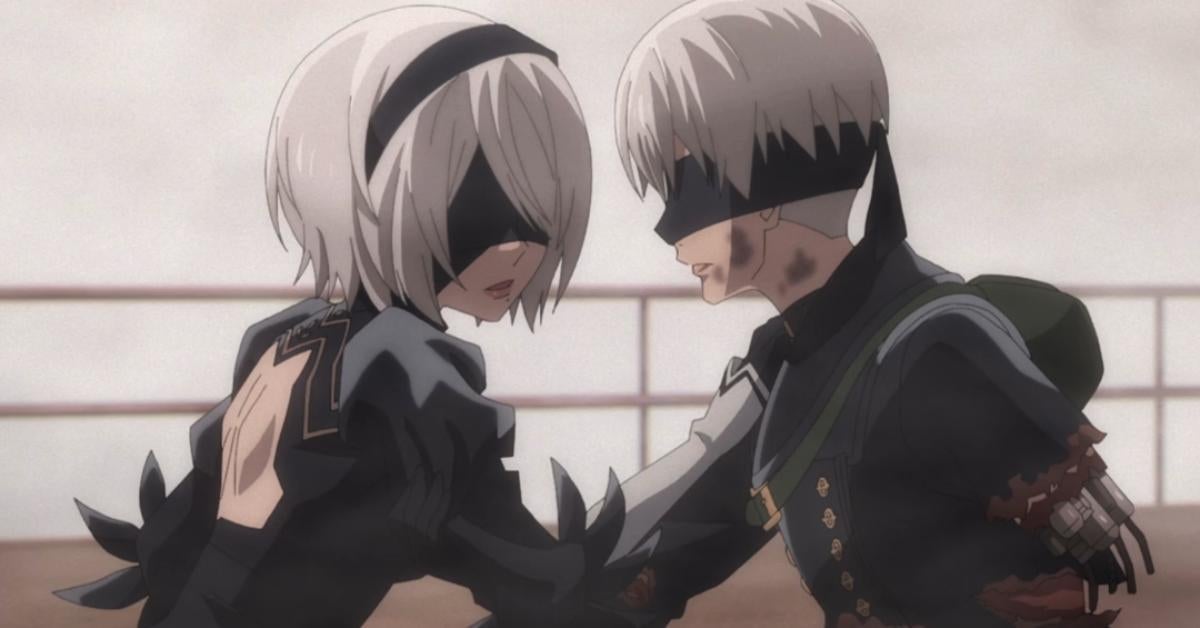 The 2nd big-name anime from this season and this too hasn't disappointed yet at all. It is loyally following the game's story so far; changing perspectives where necessary to make the anime more fluent. The 2nd episode for example was so masterfully done. I really can't think of any negatives in this anime so far. It is amazing, probably the best of the season in my opinion. Easy 10/10
Isekai Nonbiri Nouka
I did not expect this anime to end up as good as it did. I knew it'd be decent but, it is really entertaining and quite different from other fantasy isekais. Really didn't expect an isekai about farming to end up as good as it did. Like, homeboy started with a small hut and farm and three episodes later, buddy has a whole village. And you see his gradual progress. It is really satisfying. 7/10 for now, may end up as an 8 too.
Otonari no Tenshi-sama
Ah yes please, another good wholesome romance anime with no harem bs involved. Both the MCs are perfectly normal people too. That sounds weird but, it is hard to find "normal" people in romance animes if you know what I mean. I… I really needed a romance anime like this one. An easy 8/10 may even end up as a 9/10 depending on how things progress.
Spy Kyoushitsu
I made a detailed article on this fairly recently so I won't go into too much detail on it here. I think it has potential but, I will have to watch all 12 episodes before solidifying my thoughts on it. As of now, it is a 5/10 but, I still recommend that you at least check it out.
Tensei Oujo to Tensai Reijou no Mahou Kakumei
The unexpected romance anime I fell for this season. Being a male, I of course like yuri. And we rarely get good yuri animes like this. I guess after LycoReco the general consensus around yuri animes has started to shift a little given that we got an announcement of another good one recently. This one too though is pretty decent and really entertaining. An easy 7/10 right now, may go up to an 8 later.
Tokyo Revengers Season 2
I mean, what do you even want me to say? Tokyo Revengers is back in Anime Winter 2023 baby! Keep your hearts close because this season will be much more extreme than the last one. Didn't expect to hear Sug-bro in Gintama but here we are; he is voicing that complete maniac Shiba Taijuu too. Ah man the last battle of this season will be epic, I can already feel it. An easy 8/10 for now.
Conclusion
Well, that is it for now. Let me know what you guys think in the comments. Those were my thoughts and opinions on the stuff I am watching in Anime Winter 2023. With that said, I will take my leave here. See ya!!