Digital Art with Pencils? @will_willd Shares his Secrets
@will_willd is an anime artist of few words. In his interview, he created what you can call a pencil sketch of his art world for us. ?
To fill it with colors, we reached out to his anime art gallery to find answers through his expressions in a medium he is more comfortable with, the world his favorite anime Sword Art Online propelled into, the world of anime drawings.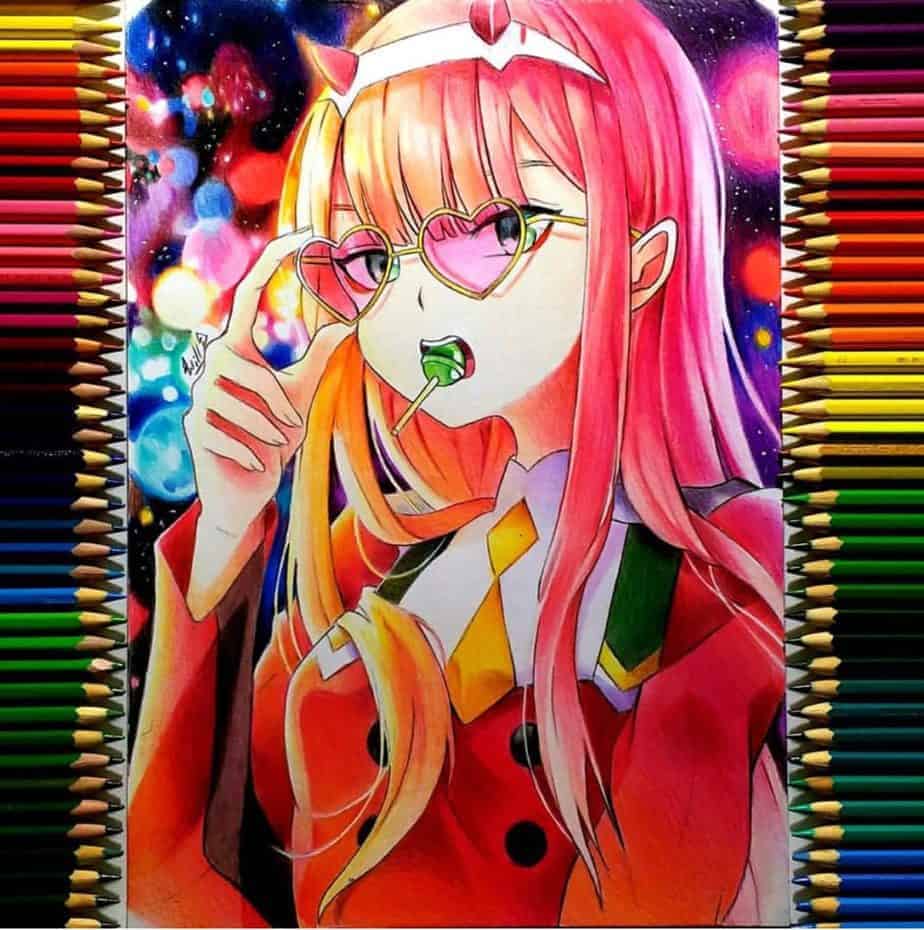 ~Zero Two – Darling in the Franxx
A hundred vivid drawings greeted us. There was an explosion of colors in front of our eyes ??! DARLING in the FRANXX's Zero Twos' lovely glam avatar was one of the first drawings that hit us and we were at a loss for words ?! Once you come out of the trance that the flamboyant background casts around you, you notice her perfectly pigmented hair against the light, complete with her limiter headband on her horns. But wait! There's more to the this Digital Art.
Look around and you see a file of colored pencils neatly arranged in a perfect gradient on both sides of the canvas ?. Going by what Will reveals to his pressing fans, these are your modest Faber Castle Colored Pencils and Maped Colored Pencils. The paper is Diplomat Opaline 180g. "I love using colored pencils, I love making traditional art, I have paper and colored pencils is what matters to me", he exclaims ???.
~ Haise Sasaki – Tokyo Ghoul
We are scrolling down, treating our eyes ? to the magnificent animeart at every step. There is some game-inspired art on his wall. That's his second love only next to creating animeart. Had he not been a traditional artist, he would have been doing something related to games ?, he's told us. We scroll ahead. There is a picture of Haise Sasaki's evil form ? eruditely brought to life in an ensemble of grey suit against a concoction of red. That's some use of colors to bring out a character's form, we must say.
~ Ban and Elaine – Nanatsu no Taizai
We're going through some other drawings when we stop. One of anime's most scintillating couples! A masochistic Ban in stark red uniform is embracing a blushing, petite Elaine in her pretty Holy Maiden outfit?. We're awed at how William nails the expression in both their eyes. Ah, the romance blossoming out of the art?!
~ Uraraka Ochako – Boku no Hero
Not just romance, but having immersed himself in anime drawings since 16, Will has trained his hands to nail every expression with perfection. Just look at bubbly Uraraka Ochako in her white uniform surrounded by refreshing greenery. This soothing drawing is Will collab with some of his fellow anime Instagram artists ?‍?‍?‍?. "They are of great help.", this humble artist tells us.
Truly, William is an inspiration most of the budding artists of today seek.
Do you have any comments on his Digital Art above? Do you have a question that you want us to ask him? Leave a message below!